Powraca PokerStars Bounty Builder z Promocjami na Halloween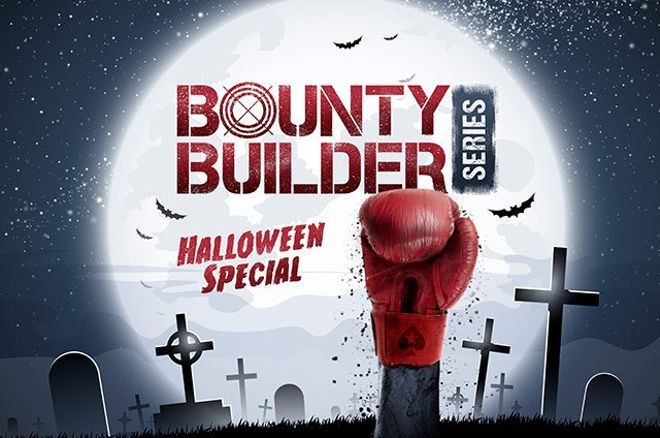 Po udanej edycjiBounty Builder Series w październiku ubiegłego roku, PokerStars postanowił powrócić z serią również w tym roku, dodając przy okazji specjalne promocje związane ze świętem Halloween. Trwający dwa tygodnie festiwal, rozpocznie się w niedzielę, 13 października i składać się będzie ze 180 turniejów rozgrywanych w formacie Progressive Bounty, których łączna pula nagród wyniesie aż $25 mln.
Ubiegłoroczna edycja Bounty Builder zaoferowała graczom pulę nagród w wysokości $20 mln, która została przekroczona niemal o 50%. Ostatecznie, podczas 140 eventów rozdano $29,474,285.
Najważniejszym punktem festiwalu będzie oczywiście Main Event z wpisowym $530, który rozegrany zostanie w niedzielę, 27 października. Podobnie jak w ubiegłym roku, turniej główny BBS potrwa dwa dni, a w puli gwarantowanej wydarzenia znajdzie się aż $2 mln. Turniej ten będzie rozgrywany przy 8-osobowych stołach, a każdy z graczy będzie mógł skorzystać z opcji re-entry do 3 razy. W 2018 roku, w Main Evencie zwyciężył młody Niemiec grający pod nickiem "121323243435454", który za zwycięstwo zainkasował $306,000.
Szczegóły Bounty Builder Series
Wpisowe do turniejów wynosić będzie od $1.10 do $10,300. Każdego dnia rozgrywanych będzie 12 turniejów w formacie Progressive Bounty, które rozpoczynać się będą w godzinach między 14:00, a 23:30.
Zdecydowana większość turniejów, rozgrywana będzie w formule No Limit Hold'em, ale okazyjnie pojawią również inne formaty, takie jak chociażby Pot Limit Omaha. Wszystkie turnieje zostaną rozegrane w formacie progressive knockout, który cieszy się olbrzymią popularnością wśród graczy rekreacyjnych. Zgodnie z zasadami tego formatu, bounty za eliminacje gracza rośnie za każdym razem, kiedy wyrzuci kogoś z turnieju.
Każdy z zawodników rozpocznie rywalizację z nagrodą bounty za swoją głowę, ale kiedy wyeliminujesz rywala z gry, część z nagrody za jego eliminację powędruje na Twoje konto, a druga część zostanie dodana jako nagroda za Twoją głowę (przeważnie 50/50).
W 47 turniejach poziomy blindy będą zdecydowanie krótsze, 43 z nich to turnieje turbo, a 4 to wydarzenia hyper-turbo. Dodatkowo, do tradycyjnych turniejów PKO, dodane zostaną również turnieje w formie "Win the Button" oraz "Progressive Total KO". W pierwszym przypadku, każdy kto wygra rozdanie, otrzyma również krążek buttona, podczas gdy w drugim typie turniejów, całe wpisowe wędruje do puli bounty za eliminację gracza.
Promocje
Druga edycja BBS połączona będzie z obchodami święta Halloween. PokerStars zorganizuje turniej $5,000 Halloween KO Leaderboard, turnieje "Trick or Treat" w każdą środę oraz w piątki z dodanymi ticketami BBS, Wyzwania Midnight oraz trzy freerolle z pulą $10,000.
Najlepszych pięciu graczy z największa ilością eliminacji, otrzyma część z puli nagród w wysokości $5,000, podczas gdy inni gracze z klasyfikacji otrzymają wejściówki do freerolla z pulą $10,000, który rozegrany zostanie 31 października. W ubiegłym roku, "Bananero17" zanotował podczas serii 392 eliminacji i otrzymał jeden z dwóch pakietów Platinum Pass o wartości $30,000. W tym roku wszystko wskazuje jednak na to, że pakietu nie będzie.
Gracze mogą otrzymać bilety do Freerolli Halloween z pulą $10,000, eliminując z gry rywali:
W wybranych turniejach "Trick or Treat" rozgrywanych w środy oraz piątki, gracze mogą otrzymać bilety $1,10, $5,50 oraz $22 BBS.
Specjalne turnieje "Midnight Challenges" Super KO rozgrywane przy 18 i 24-osobowych stołach rozgrywane są po zakończeniu wszystkich eventów "Bounty Builder" danego dnia. Wyeliminuj przynajmniej pięciu graczy w dowolnym turnieju i zyskaj awans do wydarzenia All-in Shootout, w którym czeka $2,000 w ticketach do turniejów BBS.
2019 PokerStars Bounty Builder Series Schedule
| Date | Time (ET) | Event |
| --- | --- | --- |
| Sun., Oct. 13 | 10:00 | Bounty Builder Series 001: $1.10 NLHE [6-Max], $7.5K Gtd |
| Sun., Oct. 13 | 10:15 | Bounty Builder Series 02: $11 NLHE [6-Max], $100K Gtd |
| Sun., Oct. 13 | 10:30 | Bounty Builder Series 03: $109 NLHE [6-Max], $125K Gtd |
| Sun., Oct. 13 | 11:30 | Bounty Builder Series 04: $55 NLHE [Turbo], $100K Gtd |
| Sun., Oct. 13 | 13:00 | Bounty Builder Series 05: $2,100 NLHE [8-Max], $500K Gtd |
| Sun., Oct. 13 | 13:15 | Bounty Builder Series 06: $215 NLHE [8-Max], $400K Gtd |
| Sun., Oct. 13 | 13:30 | Bounty Builder Series 07: $22 NLHE [8-Max], $150K Gtd |
| Sun., Oct. 13 | 14:30 | Bounty Builder Series 08: $109 NLHE [Turbo], $200K Gtd |
| Sun., Oct. 13 | 16:00 | Bounty Builder Series 09: $530 NLHE, $400K Gtd |
| Sun., Oct. 13 | 16:15 | Bounty Builder Series 10: $55 NLHE, $250K Gtd |
| Sun., Oct. 13 | 16:30 | Bounty Builder Series 11: $5.50 NLHE, $75K Gtd |
| Sun., Oct. 13 | 17:30 | Bounty Builder Series 12: $1,050 NLHE [8-Max, Turbo], $200K Gtd |
| Mon., Oct. 14 | 10:00 | Bounty Builder Series 13: $2.20 PLO [6-Max], $7.5K Gtd |
| Mon., Oct. 14 | 10:15 | Bounty Builder Series 14: $22 PLO [6-Max], $35K Gtd |
| Mon., Oct. 14 | 10:30 | Bounty Builder Series 15: $215 PLO [6-Max], $75K Gtd |
| Mon., Oct. 14 | 11:30 | Bounty Builder Series 16: $215 NLHE [Turbo], $100K Gtd |
| Mon., Oct. 14 | 13:00 | Bounty Builder Series 17: $530 NLHE [8-Max], $150K Gtd |
| Mon., Oct. 14 | 13:15 | Bounty Builder Series 18: $55 NLHE [8-Max], $175K Gtd |
| Mon., Oct. 14 | 13:30 | Bounty Builder Series 19: $5.50 NLHE [8-Max], $50K Gtd |
| Mon., Oct. 14 | 14:30 | Bounty Builder Series 20: $109 NLHE [Turbo], $100K Gtd |
| Mon., Oct. 14 | 16:00 | Bounty Builder Series 21: $215 NLHE, $150K Gtd |
| Mon., Oct. 14 | 16:15 | Bounty Builder Series 22: $22 NLHE, $75K Gtd |
| Mon., Oct. 14 | 16:30 | Bounty Builder Series 23: $2.20 NLHE, $7.5K Gtd |
| Mon., Oct. 14 | 17:30 | Bounty Builder Series 24: $55 NLHE [6-Max, Turbo], $75K Gtd |
| Tues., Oct. 15 | 10:00 | Bounty Builder Series 25: $5.50 NLHE [8-Max], $15K Gtd |
| Tues., Oct. 15 | 10:15 | Bounty Builder Series 26: $55 NLHE [8-Max], $75K Gtd |
| Tues., Oct. 15 | 10:30 | Bounty Builder Series 27: $530 NLHE [8-Max], $100K Gtd |
| Tues., Oct. 15 | 11:30 | Bounty Builder Series 28: $109 NLHE [4-Max, Turbo], $125K Gtd |
| Tues., Oct. 15 | 13:00 | Bounty Builder Series 29: $1,050 NLHE, $350K Gtd |
| Tues., Oct. 15 | 13:15 | Bounty Builder Series 30: $109 NLHE, $200K Gtd |
| Tues., Oct. 15 | 13:30 | Bounty Builder Series 31: $11 NLHE, $100K Gtd |
| Tues., Oct. 15 | 14:30 | Bounty Builder Series 32: $215 NLHE [6-Max, Hyper-Turbo], $75K Gtd |
| Tues., Oct. 15 | 16:00 | Bounty Builder Series 33: $530 NLHE [8-Max], $150K Gtd |
| Tues., Oct. 15 | 16:15 | Bounty Builder Series 34: $55 NLHE [8-Max], $100K Gtd |
| Tues., Oct. 15 | 16:30 | Bounty Builder Series 35: $5.50 NLHE [8-Max], $20K Gtd |
| Tues., Oct. 15 | 17:30 | Bounty Builder Series 36: $109 NLHE [Turbo], $100K Gtd |
| Wed., Oct. 16 | 10:00 | Bounty Builder Series 37: $2.20 NLHE [8-Max], $7.5K Gtd |
| Wed., Oct. 16 | 10:15 | Bounty Builder Series 38: $22 NLHE [8-Max], $75K Gtd |
| Wed., Oct. 16 | 10:30 | Bounty Builder Series 39: $215 NLHE [8-Max], $100K Gtd |
| Wed., Oct. 16 | 11:30 | Bounty Builder Series 40: $55 NLHE [Turbo], $75K Gtd |
| Wed., Oct. 16 | 13:00 | Bounty Builder Series 41: $530 NLHE [6-Max], $150K Gtd |
| Wed., Oct. 16 | 13:15 | Bounty Builder Series 42: $55 NLHE [6-Max], $150K Gtd |
| Wed., Oct. 16 | 13:30 | Bounty Builder Series 43: $5.50 NLHE [6-Max], $40K Gtd |
| Wed., Oct. 16 | 14:30 | Bounty Builder Series 44: $109 NLHE [6-Max, Turbo, Shootout], $100K Gtd |
| Wed., Oct. 16 | 16:00 | Bounty Builder Series 45: $109 NLHE, $150K Gtd |
| Wed., Oct. 16 | 16:15 | Bounty Builder Series 46: $11 NLHE, $75K Gtd |
| Wed., Oct. 16 | 16:30 | Bounty Builder Series 47: $1.10 NLHE, $5K Gtd |
| Wed., Oct. 16 | 17:30 | Bounty Builder Series 48: $55 NLHE [Turbo], $75K Gtd |
| Thurs., Oct. 17 | 10:00 | Bounty Builder Series 49: $5.50 NLHE, $15K Gtd |
| Thurs., Oct. 17 | 10:15 | Bounty Builder Series 50: $55 NLHE, $75K Gtd |
| Thurs., Oct. 17 | 10:30 | Bounty Builder Series 51: $530 NLHE, $100K Gtd |
| Thurs., Oct. 17 | 11:30 | Bounty Builder Series 52: $109 NLHE [6-Max, Turbo, Win the Button], $100K Gtd |
| Thurs., Oct. 17 | 13:00 | Bounty Builder Series 53: $2,100 NLHE [8-Max], $400K Gtd |
| Thurs., Oct. 17 | 13:15 | Bounty Builder Series 54: $215 NLHE [8-Max], $250K Gtd |
| Thurs., Oct. 17 | 13:30 | Bounty Builder Series 55: $22 NLHE [8-Max], $125K Gtd |
| Thurs., Oct. 17 | 14:30 | Bounty Builder Series 56: $55 NLHE [Turbo], $100K Gtd |
| Thurs., Oct. 17 | 16:00 | Bounty Builder Series 57: $530 NLO8 [6-Max], $50K Gtd |
| Thurs., Oct. 17 | 16:15 | Bounty Builder Series 58: $55 NLO8 [6-Max], $40K Gtd |
| Thurs., Oct. 17 | 16:30 | Bounty Builder Series 59: $5.50 NLO8 [6-Max], $15K Gtd |
| Thurs., Oct. 17 | 17:30 | Bounty Builder Series 60: $215 NLHE [8-Max, Turbo], $100K Gtd |
| Fri., Oct. 18 | 10:00 | Bounty Builder Series 61: $1.10 NLHE [6-Max], $5K Gtd |
| Fri., Oct. 18 | 10:15 | Bounty Builder Series 62: $11 NLHE [6-Max], $50K Gtd |
| Fri., Oct. 18 | 10:30 | Bounty Builder Series 63: $109 NLHE [6-Max], $100K Gtd |
| Fri., Oct. 18 | 11:30 | Bounty Builder Series 64: $215 NLHE [Turbo], $100K Gtd |
| Fri., Oct. 18 | 13:00 | Bounty Builder Series 65: $530 NLHE, $150K Gtd |
| Fri., Oct. 18 | 13:15 | Bounty Builder Series 66: $55 NLHE, $175K Gtd |
| Fri., Oct. 18 | 13:30 | Bounty Builder Series 67: $5.50 NLHE, $50K Gtd |
| Fri., Oct. 18 | 14:30 | Bounty Builder Series 68: $109 NLHE [Turbo], $125K Gtd |
| Fri., Oct. 18 | 16:00 | Bounty Builder Series 69: $1,050 NLHE [8-Max], $200K Gtd |
| Fri., Oct. 18 | 16:15 | Bounty Builder Series 70: $109 NLHE [8-Max], $100K Gtd |
| Fri., Oct. 18 | 16:30 | Bounty Builder Series 71: $11 NLHE [8-Max], $75K Gtd |
| Fri., Oct. 18 | 17:30 | Bounty Builder Series 72: $55 NLHE [6-Max, Hyper-Turbo, Progressive Total KO], $75K Gtd |
| Sat., Oct. 19 | 10:00 | Bounty Builder Series 73: $2.20 NLHE, $7.5K Gtd |
| Sat., Oct. 19 | 10:15 | Bounty Builder Series 74: $22 NLHE, $75K Gtd |
| Sat., Oct. 19 | 10:30 | Bounty Builder Series 75: $215 NLHE, $100K Gtd |
| Sat., Oct. 19 | 11:30 | Bounty Builder Series 76: $55 NLHE [6-Max, Turbo], $75K Gtd |
| Sat., Oct. 19 | 13:00 | Bounty Builder Series 77: $1,050 NLHE [8-Max], $250K Gtd |
| Sat., Oct. 19 | 13:15 | Bounty Builder Series 78: $109 NLHE [8-Max], $200K Gtd |
| Sat., Oct. 19 | 13:30 | Bounty Builder Series 79: $11 NLHE [8-Max], $100K Gtd |
| Sat., Oct. 19 | 14:30 | Bounty Builder Series 80: $215 NLHE [Heads Up, Turbo, Progressive Total KO, Zoom], $100K Gtd |
| Sat., Oct. 19 | 16:00 | Bounty Builder Series 81: $530 NLHE, $150K Gtd |
| Sat., Oct. 19 | 16:15 | Bounty Builder Series 82: $55 NLHE, $100K Gtd |
| Sat., Oct. 19 | 16:30 | Bounty Builder Series 83: $5.50 NLHE, $20K Gtd |
| Sat., Oct. 19 | 17:30 | Bounty Builder Series 84: $109 PLO [6-Max, Turbo], $40K Gtd |
| Sun., Oct. 20 | 10:00 | Bounty Builder Series 85: $2.20 NLHE, $7.5K Gtd |
| Sun., Oct. 20 | 10:15 | Bounty Builder Series 86: $22 NLHE, $100K Gtd |
| Sun., Oct. 20 | 10:30 | Bounty Builder Series 87: $215 NLHE, $150K Gtd |
| Sun., Oct. 20 | 11:30 | Bounty Builder Series 88: $109 NLHE [Turbo], $150K Gtd |
| Sun., Oct. 20 | 13:00 | Bounty Builder Series 89: $5,200 NLHE [8-Max, High Roller], $500K Gtd |
| Sun., Oct. 20 | 13:15 | Bounty Builder Series 90: $530 NLHE [8-Max], $500K Gtd |
| Sun., Oct. 20 | 13:30 | Bounty Builder Series 91: $55 NLHE [8-Max], $250K Gtd |
| Sun., Oct. 20 | 14:30 | Bounty Builder Series 92: $215 NLHE [Turbo], $250K Gtd |
| Sun., Oct. 20 | 16:00 | Bounty Builder Series 93: $1,050 NLHE [6-Max], $250K Gtd |
| Sun., Oct. 20 | 16:15 | Bounty Builder Series 94: $109 NLHE [6-Max], $400K Gtd |
| Sun., Oct. 20 | 16:30 | Bounty Builder Series 95: $11 NLHE [6-Max], $150K Gtd |
| Sun., Oct. 20 | 17:30 | Bounty Builder Series 96: $55 NLHE [8-Max, Turbo], $75K Gtd |
| Mon., Oct. 21 | 10:00 | Bounty Builder Series 97: $1.10 5-Card PLO [6-Max], $2.5K Gtd |
| Mon., Oct. 21 | 10:15 | Bounty Builder Series 98: $11 5-Card PLO [6-Max], $20K Gtd |
| Mon., Oct. 21 | 10:30 | Bounty Builder Series 99: $109 5-Card PLO [6-Max], $35K Gtd |
| Mon., Oct. 21 | 11:30 | Bounty Builder Series 100: $215 NLHE [8-Max, Turbo], $100K Gtd |
| Mon., Oct. 21 | 13:00 | Bounty Builder Series 101: $530 NLHE, $150K Gtd |
| Mon., Oct. 21 | 13:15 | Bounty Builder Series 102: $55 NLHE, $175K Gtd |
| Mon., Oct. 21 | 13:30 | Bounty Builder Series 103: $5.50 NLHE, $50K Gtd |
| Mon., Oct. 21 | 14:30 | Bounty Builder Series 104: $109 NLHE [Turbo], $150K Gtd |
| Mon., Oct. 21 | 16:00 | Bounty Builder Series 105: $215 NLHE [8-Max], $150K Gtd |
| Mon., Oct. 21 | 16:15 | Bounty Builder Series 106: $22 NLHE [8-Max], $75K Gtd |
| Mon., Oct. 21 | 16:30 | Bounty Builder Series 107: $2.20 NLHE [8-Max], $7.5K Gtd |
| Mon., Oct. 21 | 17:30 | Bounty Builder Series 108: $55 NLHE [6-Max, Turbo, Progressive Total KO], $75K Gtd |
| Tues., Oct. 22 | 10:00 | Bounty Builder Series 109: $5.50 NLHE, $25K Gtd |
| Tues., Oct. 22 | 10:15 | Bounty Builder Series 110: $55 NLHE, $100K Gtd |
| Tues., Oct. 22 | 10:30 | Bounty Builder Series 111: $530 NLHE, $100K Gtd |
| Tues., Oct. 22 | 11:30 | Bounty Builder Series 112: $109 NLHE [Turbo], $100K Gtd |
| Tues., Oct. 22 | 13:00 | Bounty Builder Series 113: $2,100 NLHE [8-Max], $400K Gtd |
| Tues., Oct. 22 | 13:15 | Bounty Builder Series 114: $215 NLHE [8-Max], $250K Gtd |
| Tues., Oct. 22 | 13:30 | Bounty Builder Series 115: $22 NLHE [8-Max], $125K Gtd |
| Tues., Oct. 22 | 14:30 | Bounty Builder Series 116: $55 NLHE [Turbo], $100K Gtd |
| Tues., Oct. 22 | 16:00 | Bounty Builder Series 117: $1,050 NLHE [6-Max], $200K Gtd |
| Tues., Oct. 22 | 16:15 | Bounty Builder Series 118: $109 NLHE [6-Max], $100K Gtd |
| Tues., Oct. 22 | 16:30 | Bounty Builder Series 119: $11 NLHE [6-Max], $75K Gtd |
| Tues., Oct. 22 | 17:30 | Bounty Builder Series 120: $215 NLHE [8-Max, Turbo], $100K Gtd |
| Wed., Oct. 23 | 10:00 | Bounty Builder Series 121: $2.20 NLHE [8-Max], $7.5K Gtd |
| Wed., Oct. 23 | 10:15 | Bounty Builder Series 122: $22 NLHE [8-Max], $75K Gtd |
| Wed., Oct. 23 | 10:30 | Bounty Builder Series 123: $215 NLHE [8-Max], $100K Gtd |
| Wed., Oct. 23 | 11:30 | Bounty Builder Series 124: $55 NLHE [6-Max, Turbo], $75K Gtd |
| Wed., Oct. 23 | 13:00 | Bounty Builder Series 125: $530 NLHE, $150K Gtd |
| Wed., Oct. 23 | 13:15 | Bounty Builder Series 126: $55 NLHE, $175K Gtd |
| Wed., Oct. 23 | 13:30 | Bounty Builder Series 127: $5.50 NLHE, $50K Gtd |
| Wed., Oct. 23 | 14:30 | Bounty Builder Series 128: $109 NLHE [6-Max, Hyper-Turbo], $75K Gtd |
| Wed., Oct. 23 | 16:00 | Bounty Builder Series 129: $109 NLHE [8-Max, Progressive Total KO], $200K Gtd |
| Wed., Oct. 23 | 16:15 | Bounty Builder Series 130: $11 NLHE [8-Max, Progressive Total KO], $75K Gtd |
| Wed., Oct. 23 | 16:30 | Bounty Builder Series 131: $1.10 NLHE [8-Max, Progressive Total KO], $5K Gtd |
| Wed., Oct. 23 | 17:30 | Bounty Builder Series 132: $55 NLHE [Turbo], $75K Gtd |
| Thurs., Oct. 24 | 10:00 | Bounty Builder Series 133: $5.50 NLHE, $15K Gtd |
| Thurs., Oct. 24 | 10:15 | Bounty Builder Series 134: $55 NLHE, $75K Gtd |
| Thurs., Oct. 24 | 10:30 | Bounty Builder Series 135: $530 NLHE, $100K Gtd |
| Thurs., Oct. 24 | 11:30 | Bounty Builder Series 136: $215 NLHE [Turbo], $100K Gtd |
| Thurs., Oct. 24 | 13:00 | Bounty Builder Series 137: $10,300 NLHE [8-Max, High Roller], $500K Gtd |
| Thurs., Oct. 24 | 13:15 | Bounty Builder Series 138: $1,050 NLHE [8-Max], $350K Gtd |
| Thurs., Oct. 24 | 13:30 | Bounty Builder Series 139: $109 NLHE [8-Max], $200K Gtd |
| Thurs., Oct. 24 | 14:30 | Bounty Builder Series 140: $530 NLHE [Turbo], $150K Gtd |
| Thurs., Oct. 24 | 16:00 | Bounty Builder Series 141: $2,100 PLO [6-Max], $250K Gtd |
| Thurs., Oct. 24 | 16:15 | Bounty Builder Series 142: $215 PLO [6-Max], $75K Gtd |
| Thurs., Oct. 24 | 16:30 | Bounty Builder Series 143: $22 PLO [6-Max], $40K Gtd |
| Thurs., Oct. 24 | 17:30 | Bounty Builder Series 144: $109 NLHE [8-Max, Turbo], $100K Gtd |
| Fri., Oct. 25 | 10:00 | Bounty Builder Series 145: $2.20 NLHE, $7.5K Gtd |
| Fri., Oct. 25 | 10:15 | Bounty Builder Series 146: $22 NLHE, $75K Gtd |
| Fri., Oct. 25 | 10:30 | Bounty Builder Series 147: $215 NLHE, $100K Gtd |
| Fri., Oct. 25 | 11:30 | Bounty Builder Series 148: $55 NLHE [Turbo], $75K Gtd |
| Fri., Oct. 25 | 13:00 | Bounty Builder Series 149: $530 NLHE [6-Max], $150K Gtd |
| Fri., Oct. 25 | 13:15 | Bounty Builder Series 150: $55 NLHE [6-Max], $125K Gtd |
| Fri., Oct. 25 | 13:30 | Bounty Builder Series 151: $5.50 NLHE [6-Max], $40K Gtd |
| Fri., Oct. 25 | 14:30 | Bounty Builder Series 152: $109 NLHE [Turbo], $125K Gtd |
| Fri., Oct. 25 | 16:00 | Bounty Builder Series 153: $1,050 NLHE [8-Max], $200K Gtd |
| Fri., Oct. 25 | 16:15 | Bounty Builder Series 154: $109 NLHE [8-Max], $150K Gtd |
| Fri., Oct. 25 | 16:30 | Bounty Builder Series 155: $11 NLHE [8-Max], $75K Gtd |
| Fri., Oct. 25 | 17:30 | Bounty Builder Series 156: $215 NLHE [6-Max, Hyper-Turbo], $75K Gtd |
| Sat., Oct. 26 | 10:00 | Bounty Builder Series 157: $1.10 NLHE [8-Max], $5K Gtd |
| Sat., Oct. 26 | 10:15 | Bounty Builder Series 158: $11 NLHE [8-Max], $50K Gtd |
| Sat., Oct. 26 | 10:30 | Bounty Builder Series 159: $109 NLHE [8-Max], $100K Gtd |
| Sat., Oct. 26 | 11:30 | Bounty Builder Series 160: $55 NLHE [3-Max, Turbo, Win the Button], $75K Gtd |
| Sat., Oct. 26 | 13:00 | Bounty Builder Series 161: $2,100 NLHE, $300K Gtd |
| Sat., Oct. 26 | 13:15 | Bounty Builder Series 162: $215 NLHE, $200K Gtd |
| Sat., Oct. 26 | 13:30 | Bounty Builder Series 163: $22 NLHE, $125K Gtd |
| Sat., Oct. 26 | 14:30 | Bounty Builder Series 164: $5,200 NLHE [8-Max, High Roller], $500K Gtd |
| Sat., Oct. 26 | 16:00 | Bounty Builder Series 165: $530 NLHE [Turbo], $150K Gtd |
| Sat., Oct. 26 | 16:15 | Bounty Builder Series 166: $55 NLHE [Turbo], $75K Gtd |
| Sat., Oct. 26 | 16:30 | Bounty Builder Series 167: $5.50 NLHE [Turbo], $20K Gtd |
| Sat., Oct. 26 | 17:30 | Bounty Builder Series 168: $109 NLO8 [6-Max, Turbo], $35K Gtd |
| Sun., Oct. 27 | 10:00 | Bounty Builder Series 169: $1.10 NLHE, $7.5K Gtd |
| Sun., Oct. 27 | 10:15 | Bounty Builder Series 170: $11 NLHE, $100K Gtd |
| Sun., Oct. 27 | 10:30 | Bounty Builder Series 171: $109 NLHE, $150K Gtd |
| Sun., Oct. 27 | 11:30 | Bounty Builder Series 172: $22 NLHE [Turbo], $75K Gtd |
| Sun., Oct. 27 | 13:00 | Bounty Builder Series 173: $530 NLHE [8-Max, Main Event], $2M Gtd |
| Sun., Oct. 27 | 13:15 | Bounty Builder Series 174: $55 NLHE [8-Max], $250K Gtd |
| Sun., Oct. 27 | 13:30 | Bounty Builder Series 175: $5.50 NLHE [8-Max], $75K Gtd |
| Sun., Oct. 27 | 14:30 | Bounty Builder Series 176: $109 NLHE [6-Max, Turbo], $200K Gtd |
| Sun., Oct. 27 | 16:00 | Bounty Builder Series 177: $2,100 NLHE, $400K Gtd |
| Sun., Oct. 27 | 16:15 | Bounty Builder Series 178: $215 NLHE, $400K Gtd |
| Sun., Oct. 27 | 16:30 | Bounty Builder Series 179: $22 NLHE, $150K Gtd |
| Sun., Oct. 27 | 17:30 | Bounty Builder Series 180: $1,050 NLHE [8-Max, Turbo], $200K Gtd |