PokerStars opublikował harmonogram SCOOP 2013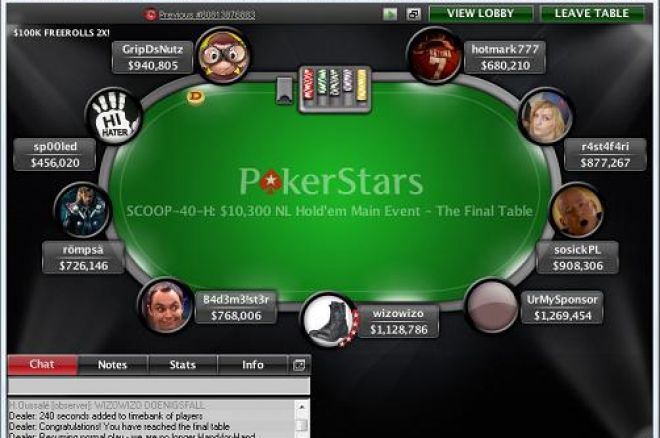 W środę, PokerStars przedstawił oficjalny harmonogram Spring Championship of Online Poker. Startujący 12 maja festiwal, będzie składał się z 44 eventów na trzech poziomach wpisowego (niski, średni i wysoki), co oznacza iż łącznie rozegranych zostanie 132 turniejów z gwarantowaną pulą nagród w wysokości $40,000,000.
Całą serie zakończy 26 maja, Main Event, który również rozegrany zostanie na trzech poziomach wpisowego low ($109), medium ($1,050) i high ($10,300).
Wpisowe do poszczególnych turniejów jest bardzo zróżnicowane i wynosi od $5,50 do $2,100. W harmonogramie pojawiły się również eventy w niedawno dodanych odmianach takich jak 5-Card Omaha i Courchevel. Uczestnicy będą mogli się też zmierzyć w turniejach rozgrywanych w różnych formatach, w tym super-knockout i ante up.
"SCOOP jest dla mnie jednym z najważniejszych wydarzeń roku - olbrzymia ilość turniejów, wielki wybór gier i stawek dopasowany dla każdego," powiedział członek PokerStars Team Online Mickey "mement_mori" Petersen. "Wciąż nie wygrałem żadnego, a więc będzie próbował odznaczyć to osiągnięcie na mojej "liście celów" w maju."
W ubiegłym roku Nick "GripDsNutz" Grippo wygrał turniej SCOOP-H Main Event, inkasując $798,675. Grippo pokonał w heads-upie Polaka "sosickPL".
Harmonogram SCOOP2013
| Event | Data | Godzina | Gra | Wpisowe | Gwarantowane |
| --- | --- | --- | --- | --- | --- |
| 01-L | 12-May | 11:00 | NL Hold'em [6-Max] | $27.00 | $300,000 |
| 01-M | 12-May | 11:00 | NL Hold'em [6-Max] | $215.00 | $600,000 |
| 01-H | 12-May | 11:00 | NL Hold'em [6-Max] | $2,100.00 | $1,000,000 |
| 02-L | 12-May | 14:30 | NL Hold'em | $27.00 | $400,000 |
| 02-M | 12-May | 14:30 | NL Hold'em | $215.00 | $1,000,000 |
| 02-H | 12-May | 14:30 | NL Hold'em | $2,100.00 | $1,250,000 |
| 03-L | 13-May | 11:00 | NL Hold'em [6-Max, Action Hour, Rebuys] | $5.50 | $200,000 |
| 03-M | 13-May | 11:00 | NL Hold'em [6-Max, Action Hour, Rebuys] | $55.00 | $300,000 |
| 03-H | 13-May | 11:00 | NL Hold'em [6-Max, Action Hour, Rebuys] | $530.00 | $500,000 |
| 04-L | 13-May | 14:00 | FL Badugi | $27.00 | $30,000 |
| 04-M | 13-May | 14:00 | FL Badugi | $215.00 | $40,000 |
| 04-H | 13-May | 14:00 | FL Badugi | $2,100.00 | $50,000 |
| 05-L | 13-May | 17:00 | NL Hold'em [Rebuys, Turbo] | $11.00 | $250,000 |
| 05-M | 13-May | 17:00 | NL Hold'em [Rebuys, Turbo] | $109.00 | $500,000 |
| 05-H | 13-May | 17:00 | NL Hold'em [Rebuys, Turbo] | $1,050.00 | $750,000 |
| 06-L | 14-May | 11:00 | NL Draw [2x Chance] | $11.00 | $30,000 |
| 06-M | 14-May | 11:00 | NL Draw [2x Chance] | $109.00 | $40,000 |
| 06-H | 14-May | 11:00 | NL Draw [2x Chance] | $1,050.00 | $50,000 |
| 07-L | 14-May | 14:00 | NL Hold'em [Heads-Up] | $7.50 | $50,000 |
| 07-M | 14-May | 14:00 | NL Hold'em [Heads-Up] | $82.00 | $150,000 |
| 07-H | 14-May | 14:00 | NL Hold'em [Heads-Up] | $700.00 | $250,000 |
| 08-L | 14-May | 17:00 | NL Hold'em | $11.00 | $100,000 |
| 08-M | 14-May | 17:00 | NL Hold'em | $109.00 | $300,000 |
| 08-H | 14-May | 17:00 | NL Hold'em (Super Tuesday Special Edition) | $1,050.00 | $1,000,000 |
| 09-L | 15-May | 11:00 | PL 5-Card Omaha Hi/Lo [6-Max] | $7.50 | $25,000 |
| 09-M | 15-May | 11:00 | PL 5-Card Omaha Hi/Lo [6-Max] | $82.00 | $50,000 |
| 09-H | 15-May | 11:00 | PL 5-Card Omaha Hi/Lo [6-Max] | $700.00 | $100,000 |
| 10-L | 15-May | 14:00 | NL Hold'em [Super-Knockout] | $27.00 | $200,000 |
| 10-M | 15-May | 14:00 | NL Hold'em [Super-Knockout] | $215.00 | $400,000 |
| 10-H | 15-May | 14:00 | NL Hold'em [Super-Knockout] | $2,100.00 | $600,000 |
| 11-L | 15-May | 17:00 | Stud | $27.00 | $30,000 |
| 11-M | 15-May | 17:00 | Stud | $215.00 | $40,000 |
| 11-H | 15-May | 17:00 | Stud | $2,100.00 | $75,000 |
| 12-L | 16-May | 11:00 | NL Single Draw 2-7 | $27.00 | $30,000 |
| 12-M | 16-May | 11:00 | NL Single Draw 2-7 | $215.00 | $40,000 |
| 12-H | 16-May | 11:00 | NL Single Draw 2-7 | $2,100.00 | $50,000 |
| 13-L | 16-May | 14:00 | PL Omaha [Heads-Up] | $27.00 | $25,000 |
| 13-M | 16-May | 14:00 | PL Omaha [Heads-Up] | $215.00 | $75,000 |
| 13-H | 16-May | 14:00 | PL Omaha [Heads-Up] | $2,100.00 | $200,000 |
| 14-L | 16-May | 17:00 | NL Hold'em [Big Antes, Rebuys] | $11.00 | $150,000 |
| 14-M | 16-May | 17:00 | NL Hold'em [Big Antes, Rebuys] | $109.00 | $250,000 |
| 14-H | 16-May | 17:00 | NL Hold'em [Big Antes, Rebuys] | $1,050.00 | $400,000 |
| 15-L | 17-May | 11:00 | NL Hold'em [Ante Up] | $7.50 | $50,000 |
| 15-M | 17-May | 11:00 | NL Hold'em [Ante Up] | $82.00 | $75,000 |
| 15-H | 17-May | 11:00 | NL Hold'em [Ante Up] | $700.00 | $150,000 |
| 16-L | 17-May | 14:00 | FL Omaha Hi/Lo | $27.00 | $25,000 |
| 16-M | 17-May | 14:00 | FL Omaha Hi/Lo | $215.00 | $50,000 |
| 16-H | 17-May | 14:00 | FL Omaha Hi/Lo | $2,100.00 | $100,000 |
| 17-L | 17-May | 17:00 | NL Hold'em [Super-Knockout, 6-Max, Turbo] | $27.00 | $200,000 |
| 17-M | 17-May | 17:00 | NL Hold'em [Super-Knockout, 6-Max, Turbo] | $215.00 | $400,000 |
| 17-H | 17-May | 17:00 | NL Hold'em [Super-Knockout, 6-Max, Turbo] | $2,100.00 | $800,000 |
| 18-L | 18-May | 11:00 | NL Hold'em [10-Max, Shootout] | $27.00 | $100,000 |
| 18-M | 18-May | 11:00 | NL Hold'em [10-Max, Shootout] | $215.00 | $150,000 |
| 18-H | 18-May | 11:00 | NL Hold'em [10-Max, Shootout] | $2,100.00 | $150,000 |
| 19-L | 18-May | 14:00 | PL 5-Card Omaha [6-Max, Rebuys] | $11.00 | $75,000 |
| 19-M | 18-May | 14:00 | PL 5-Card Omaha [6-Max, Rebuys] | $109.00 | $150,000 |
| 19-H | 18-May | 14:00 | PL 5-Card Omaha [6-Max, Rebuys] | $1,050.00 | $300,000 |
| 20-L | 18-May | 17:00 | NL Hold'em [Turbo, Zoom] | $27.00 | $150,000 |
| 20-M | 18-May | 17:00 | NL Hold'em [Turbo, Zoom] | $215.00 | $350,000 |
| 20-H | 18-May | 17:00 | NL Hold'em [Turbo, Zoom] | $2,100.00 | $500,000 |
| 21-L | 19-May | 11:00 | NL Hold'em | $27.00 | $300,000 |
| 21-M | 19-May | 11:00 | NL Hold'em | $215.00 | $600,000 |
| 21-H | 19-May | 11:00 | NL Hold'em | $2,100.00 | $1,000,000 |
| 22-L | 19-May | 14:30 | NL Hold'em | $27.00 | $400,000 |
| 22-M | 19-May | 14:30 | NL Hold'em | $215.00 | $1,000,000 |
| 22-H | 19-May | 14:30 | NL Hold'em | $2,100.00 | $ 1,250,000 |
| 23-L | 19-May | 17:00 | PL Omaha [6-Max, Turbo, Rebuys] | $11.00 | $50,000 |
| 23-M | 19-May | 17:00 | PL Omaha [6-Max, Turbo, Rebuys] | $109.00 | $100,000 |
| 23-H | 19-May | 17:00 | PL Omaha [6-Max, Turbo, Rebuys] | $1,050.00 | $200,000 |
| 24-L | 20-May | 11:00 | Mixed NLHE/PLO | $11.00 | $50,000 |
| 24-M | 20-May | 11:00 | Mixed NLHE/PLO | $109.00 | $100,000 |
| 24-H | 20-May | 11:00 | Mixed NLHE/PLO | $1,050.00 | $200,000 |
| 25-L | 20-May | 14:00 | FL Hold'em [6-Max] | $27.00 | $25,000 |
| 25-M | 20-May | 14:00 | FL Hold'em [6-Max] | $215.00 | $50,000 |
| 25-H | 20-May | 14:00 | FL Hold'em [6-Max] | $2,100.00 | $75,000 |
| 26-L | 20-May | 17:00 | PL Courchevel Hi/Lo [1R1A, Turbo] | $11.00 | $50,000 |
| 26-M | 20-May | 17:00 | PL Courchevel Hi/Lo [1R1A, Turbo] | $109.00 | $150,000 |
| 26-H | 20-May | 17:00 | PL Courchevel Hi/Lo [1R1A, Turbo] | $1,050.00 | $300,000 |
| 27-L | 21-May | 11:00 | Triple Draw 2-7 | $27.00 | $25,000 |
| 27-M | 21-May | 11:00 | Triple Draw 2-7 | $215.00 | $50,000 |
| 27-H | 21-May | 11:00 | Triple Draw 2-7 | $2,100.00 | $100,000 |
| 28-L | 21-May | 14:00 | Stud Hi/Lo | $27.00 | $25,000 |
| 28-M | 21-May | 14:00 | Stud Hi/Lo | $215.00 | $50,000 |
| 28-H | 21-May | 14:00 | Stud Hi/Lo | $2,100.00 | $75,000 |
| 29-L | 21-May | 17:00 | NL Hold'em | $11.00 | $100,000 |
| 29-M | 21-May | 17:00 | NL Hold'em | $109.00 | $300,000 |
| 29-H | 21-May | 17:00 | NL Hold'em (Super Tuesday Special Edition) | $1,050.00 | $1,000,000 |
| 30-L | 22-May | 11:00 | Razz | $27.00 | $25,000 |
| 30-M | 22-May | 11:00 | Razz | $215.00 | $50,000 |
| 30-H | 22-May | 11:00 | Razz | $2,100.00 | $100,000 |
| 31-L | 22-May | 14:00 | NL Hold'em [Knockout] | $27.00 | $250,000 |
| 31-M | 22-May | 14:00 | NL Hold'em [Knockout] | $265.00 | $500,000 |
| 31-H | 22-May | 14:00 | NL Hold'em [Knockout] | $2,600.00 | $750,000 |
| 32-L | 22-May | 17:00 | PL Omaha [Turbo, Zoom] | $27.00 | $40,000 |
| 32-M | 22-May | 17:00 | PL Omaha [Turbo, Zoom] | $215.00 | $75,000 |
| 32-H | 22-May | 17:00 | PL Omaha [Turbo, Zoom] | $2,100.00 | $100,000 |
| 33-L | 23-May | 11:00 | 8-Game | $27.00 | $30,000 |
| 33-M | 23-May | 11:00 | 8-Game | $215.00 | $50,000 |
| 33-H | 23-May | 11:00 | 8-Game | $2,100.00 | $100,000 |
| 34-L | 23-May | 14:00 | PL Omaha Hi/Lo | $27.00 | $50,000 |
| 34-M | 23-May | 14:00 | PL Omaha Hi/Lo | $215.00 | $100,000 |
| 34-H | 23-May | 14:00 | PL Omaha Hi/Lo | $2,100.00 | $150,000 |
| 35-L | 23-May | 17:00 | NL Hold'em [2x Chance, Turbo] | $27.00 | $250,000 |
| 35-M | 23-May | 17:00 | NL Hold'em [2x Chance, Turbo] | $215.00 | $400,000 |
| 35-H | 23-May | 17:00 | NL Hold'em [2x Chance, Turbo] | $2,100.00 | $800,000 |
| 36-L | 24-May | 11:00 | NL Hold'em [1R1A] | $27.00 | $250,000 |
| 36-M | 24-May | 11:00 | NL Hold'em [1R1A] | $215.00 | $350,000 |
| 36-H | 24-May | 11:00 | NL Hold'em [1R1A] | $2,100.00 | $500,000 |
| 37-L | 24-May | 14:00 | HORSE | $27.00 | $30,000 |
| 37-M | 24-May | 14:00 | HORSE | $215.00 | $60,000 |
| 37-H | 24-May | 14:00 | HORSE | $2,100.00 | $100,000 |
| 38-L | 24-May | 17:00 | NL Omaha Hi/Lo | $27.00 | $40,000 |
| 38-M | 24-May | 17:00 | NL Omaha Hi/Lo | $215.00 | $70,000 |
| 38-H | 24-May | 17:00 | NL Omaha Hi/Lo | $2,100.00 | $100,000 |
| 39-L | 25-May | 11:00 | PL Omaha [6-Max] | $55.00 | $100,000 |
| 39-M | 25-May | 11:00 | PL Omaha [6-Max] | $530.00 | $200,000 |
| 39-H | 25-May | 11:00 | PL Omaha [6-Max] | $5,200.00 | $400,000 |
| 40-L | 25-May | 12:30 | NL Hold'em [Heads-Up, High-Roller] | $215.00 | $200,000 |
| 40-M | 25-May | 12:30 | NL Hold'em [Heads-Up, High-Roller] | $2,100.00 | $300,000 |
| 40-H | 25-May | 12:30 | NL Hold'em [Heads-Up, High-Roller] | $21,000.00 | $400,000 |
| 41-L | 25-May | 14:00 | NL Hold'em [4-Max] | $27.00 | $200,000 |
| 41-M | 25-May | 14:00 | NL Hold'em [4-Max] | $215.00 | $350,000 |
| 41-H | 25-May | 14:00 | NL Hold'em [4-Max] | $2,100.00 | $600,000 |
| 42-L | 26-May | 11:00 | NL Hold'em [8-Max] | $27.00 | $300,000 |
| 42-M | 26-May | 11:00 | NL Hold'em [8-Max] | $215.00 | $600,000 |
| 42-H | 26-May | 11:00 | NL Hold'em [8-Max] | $2,100.00 | $1,000,000 |
| 43-L | 26-May | 14:30 | Main Event - L | $109.00 | $1,000,000 |
| 43-M | 26-May | 14:30 | Main Event -M | $1,050.00 | $2,000,000 |
| 43-H | 26-May | 14:30 | Main Event -H | $10,300.00 | $3,000,000 |
| 44-L | 26-May | 17:00 | SCOOP Wrap-Up - L [3x Chance, Turbo] | $11.00 | $100,000 |
| 44-M | 26-May | 17:00 | SCOOP Wrap-Up - M [3x Chance, Turbo] | $109.00 | $250,000 |
| 44-H | 26-May | 17:00 | SCOOP Wrap-Up - H [3x Chance, Turbo] | $1,050.00 | $400,000 |