Harmonogram PokerStars Caribbean Adventure 2012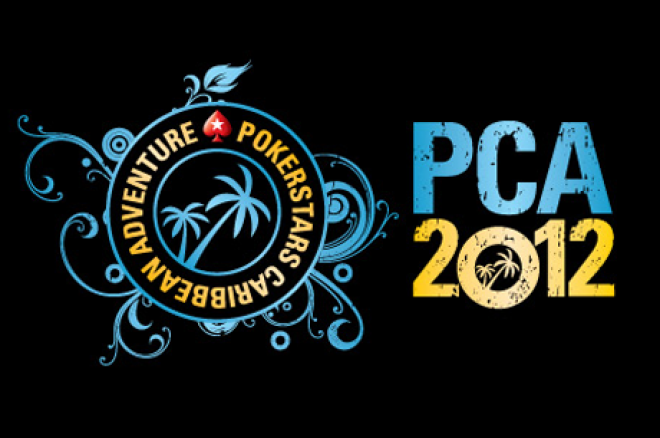 Kilka dni temu opublikowany został oficjalny harmonogram PokerStars Caribbean Adventure 2012. Najbardziej atrakcyjny festiwal pokera na świecie potrwa od 5 do 14 stycznia, a najważniejsza impreza czyli Main Event rozegrana zostanie w dniach 7-13 stycznia.
Jak zwykle przygotowany przez PokerStars harmonogram, dostosowany jest w ten sposób, aby każdy z graczy znalazł coś dla siebie. Podczas 10-dniowego festiwalu, zaplanowano rozegranie 41 turniejów, w tym $5,000 8-Game Championship, $2,100 Battleship event, a nawet Dealer Button Choice tournament. Podczas festiwalu rozegrane zostaną również dwa turnieje high roller, pierwszy to $100,000 Super Higher Roller a drugi $25,000 Higher Roller.
"Nigdy nie opuściłem PCA i nigdy to nie nastąpi" powiedział członek Teamu PokerStars Pro Daniel Negreanu, który w zeszłym roku zajął drugie miejsce w turnieju $100,000 Super Higher Roller, przegrywając jedynie ze swoim kolegą z Teamu PokerStars Pro Eugene Katchalovem. "W każdym roku przybywa graczy i właściwie dla każdego poważnego gracza jest to festiwal, którego nie można przegapić. Nie chodzi tylko o Main Event, ponieważ harmonogram pełny jest turniejów z niskim oraz wysokim wpisowym. Nie ma lepszego wyjście na rozpoczęcie 2012 roku, niż występ na PCA."
| | | | | |
| --- | --- | --- | --- | --- |
| Date | Time | Event | Game | Buy-In |
| 1/5/2012 | 12:00 | 1 | NL – Hold'em – Super High Roller – Day 1 | $100,000 |
| | | | | |
| 1/6/2012 | 12:00 | 1 | NL – Hold'em – Super High Roller – Day 2 | $100,000 |
| | 17:00 | 2 | NL – 1 Rebuy Super Satellite to Main Event | $1,040 + $60 |
| | 19:00 | 3 | NL – 1 Rebuy Super Satellite to Main Event | $1,040 + $60 |
| | | | | |
| 1/7/2012 | 12:00 | 1 | NL – Hold'em – Super High Roller – Final Day | $100,000 |
| | 12:00 | 4 | Main Event Day 1A | $10,000 + $300 |
| | 14:00 | 5 | PLO – Turbo – "8 Max" | $5,000 + $200 |
| | 17:00 | 6 | NL – 1 Rebuy Super Satellite to Main Event | $1,040 + $60 |
| | 19:00 | 7 | NL – 1 Rebuy Super Satellite to Main Event | $1,040 + $60 |
| | | | | |
| 1/8/2012 | 12:00 | 4 | Main Event Day 1B | $10,000 + $300 |
| | 14:00 | 8 | NL – Turbo – 8-Max | $5,000 + $200 |
| | 17:00 | 9 | NL – Hold'em – Survivor – $10,000 Prize – 30 Min Levels | $1,000 + $100 |
| | 19:00 | 10 | PLO8 – Turbo | $270 + $30 |
| | | | | |
| 1/9/2012 | 12:00 | 4 | Main Event Day 2 | $10,000 + $300 |
| | 13:00 | 11 | NL – Hold'em – 8-Max – Day 1 | $5,000 + $250 |
| | 15:00 | 12 | H. O. E. – $25K GTD – Hold'em, Omaha, Stud Eight – Day 1 | $1,000 + $100 |
| | 17:00 | 13 | NL – Hold'em – Win The Button! – Day 1 | $1,000 + $100 |
| | 19:00 | 14 | PLO – Turbo | $270 + $30 |
| | | | | |
| 1/10/2012 | 12:00 | 4 | Main Event Day 3 (TV) | $10,000 + $300 |
| | 12:00 | 15 | NL – Hold'em – LAPT Leaderboard Event – Day 1 | $2,000 + $150 |
| | 13:00 | 11 | NL – Hold'em – 8-Max – Final Day | $5,000 + $250 |
| | 13:00 | 12 | H. O. E. – $25K GTD – Hold'em, Omaha, Stud Eight – Final Day | $1,000 + $100 |
| | 13:00 | 13 | NL – Hold'em – Win The Button! – Final Day | $1,000 + $100 |
| | 13:00 | 16 | PLO Championships – 8-Max – Day 1 | $5,000 + $250 |
| | 15:00 | 17 | Omaha 8 / Stud 8 – $25K GTD – Day 1 | $1,000 + $100 |
| | 17:00 | 18 | NL – Hold'em – Survivor – $10,000 Prize – 30 Min Levels | $1,000 + $100 |
| | 19:00 | 19 | NL – Turbo | $270 + $30 |
| | | | | |
| 1/11/2012 | 12:00 | 4 | Main Event Day 4 – play down to 24 players (TV) | $10,000 + $300 |
| | 12:00 | 20 | NL – Hold'em – 6-Max – Day 1 | $1,000 + $100 |
| | 13:00 | 15 | NL – Hold'em – LAPT Leaderboard Event – Final Day | $2,000 + $150 |
| | 13:00 | 16 | PLO Championships – 8-Max – Final Day | $5,000 + $250 |
| | 13:00 | 17 | Omaha 8 / Stud 8 – $25K GTD – Final Day | $1,000 + $100 |
| | 13:00 | 21 | 8-Game Championships – Day 1 | $5,000 + $250 |
| | 15:00 | 22 | 6-Max 6 Pack – 6 Max – NLH, PLO, PLO8, PL Pineapple, PL Krazy Pineapple 8, PL 2-7 Triple Draw – $25K GTD – Day 1 | $1,000 + $100 |
| | 17:00 | 23 | NL – Hold'em – Ante Up – Day 1 | $1,000 + $100 |
| | 18:00 | 24 | NL – 1 Rebuy – Super Satellite to High Roller (Event #26) | $2,550 + $150 |
| | 19:00 | 25 | NL – Turbo – Bounty | $270 + $100 + $30 |
| | | | | |
| 1/12/2012 | 12:00 | 4 | Main Event Day 5 – play down to 8 players (TV) | $10,000 + $300 |
| | 12:00 | 26 | NL – Hold'em – Day 1 | $1,000 + $100 |
| | 13:00 | 27 | NL – Hold'em – High Roller – 8-Max – Day 1 | $25,000 + $500 |
| | 13:00 | 20 | NL – Hold'em – 6-Max – Final Day | $1,000 + $100 |
| | 13:00 | 21 | 8 Game Championships – Final Day | $5,000 + $250 |
| | 13:00 | 22 | 6-Max 6 Pack – 6-Max – NLH, PLO, PLO8, PL Pineapple, PL Krazy Pineapple 8, PL 2-7 Triple Draw – $25K GTD – Final Day | $1,000 + $100 |
| | 13:00 | 23 | NL – Hold'em – Ante Up' – Final Day | $1,000 + $100 |
| | 15:00 | 28 | PLO – 8-Max – Day 1 | $1,000 + $100 |
| | 17:00 | 29 | NL – Turbo | $2,000 + $150 |
| | 19:00 | 30 | NL – Turbo – Bounty | $270 + $100 + $30 |
| | | | | |
| 1/13/2012 | 12:00 | 4 | Main Event – Final Table (TV – Webcast) | $10,000 + $300 |
| | 12:00 | 27 | NL – Hold'em – High Roller – '8-Max – Day 2 | $25,000 + $500 |
| | 12:00 | 31 | World Cup of Poker – Day 1 | Invitation |
| | 12:00 | 32 | NL – Hold'em – Bounty – Day 1 | $1,000 + $1,000 + $150 |
| | 13:00 | 33 | Heads Up Championships (64 Cap) – Day 1 | $5,000 + $250 |
| | 13:00 | 26 | NL – Hold'em – Final Day | $1,000 + $100 |
| | 13:00 | 28 | PLO – 8-Max – Final Day | $1,000 + $100 |
| | 14:00 | 34 | NL – Hold'em – Women's Event – Day 1 | $1,000 + $100 |
| | 15:00 | 35 | TwoPlusTwo.com – Players Choice Event | $550 + $50 |
| | 17:00 | 36 | NLH/PLO – Dealer Button Choice (Dealer button chooses which game is played for that hand)- Day 1 | $1,000 + $100 |
| | 19:00 | 37 | NL – Turbo | $270 + $30 |
| | | | | |
| 1/14/2012 | 12:00 | 38 | PCA Battleship – Main Event | $2,000 + $100 |
| | 12:00 | 39 | NL – Turbo Edition of PCA Main Event – 15 Min Levels – $25KGTD | $270 + $30 |
| | 12:00 | 27 | NL – Hold'em – High Roller – 8-Max – Final Day – TV | $25,000 + $500 |
| | 12:00 | 31 | World Cup of Poker – Final Day | Invitation |
| | 12:00 | 32 | NL – Hold'em – Bounty – Final Day | $1,000 + $1,000 + $150 |
| | 12:00 | 33 | Heads Up Championships (64 Cap) – Final Day | $5,000 + $250 |
| | 12:00 | 34 | NL – Hold'em – Women's Event – Final Day | $1,000 + $100 |
| | 12:00 | 36 | NLH/PLO – Dealer Button Choice (Dealer button chooses which game is played for that hand)- Final Day | $1,000 + $100 |
| | 12:00 | 40 | VIP Club Freeroll | Invitation |
| | 14:00 | 41 | NL – Turbo – 6-Max – High Roller | $10,000 + $200 |
| | 20:30 | | PCA Party | Invitation |